---
Embrace the dark side with the Rey Lightsaber!

This exquisite lightsaber comes with a more affordable price than most yet provides all the features you could want. Perfect for beginners or those who are looking to expand their collection with a full fx customer lightsaber at a reasonable price.


Proffie Neopixel

- 11 interchangeable colors (See Video Below)
- 50W LED RGB Neopixel Strip
- Brightness Efficiency switching
- 6 custom sound fonts
- Proffie 2.2 soundboard with 16GB SD card included, add any sound font you love from saberfont.com
- Speaker 2-3 Watts, 4/8 ohm great quality
- Flash on clash
- Blaster deflection & lock-up
- Very perfect SMOOTH Swing
- Metal hilt
- Neopixel Blade 92cm(49.37")
- Detachable mid-grade PC Neopixel blade
- Rechargeable battery with USB cable (See pictures)
- Battery 4000mAh 18650 3.7V
- Allen key + screws to tighten blade included 
Customer Reviews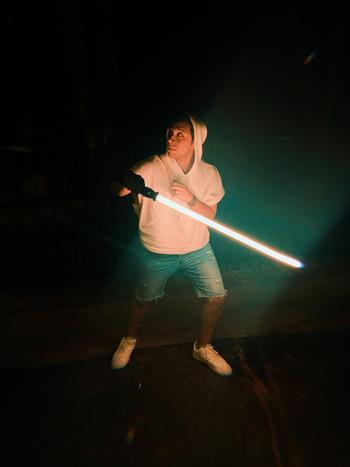 05/07/2021
Amazing
This Saber is my 3rd purchase and all I can say is that I'm extremely happy with it! Rey Skywalker is my favorite character and the saber is really movie like! And dueling and doing tricks with it is amazing! I will definitely be returning to buy more sabers! THANK YOU
Sergio P.

United States
03/30/2021
Amazing Lightsaber
Very happy since it has been my first lightsaber. It took a little bit long for me (5 weeks) but since it's my first lightsaber I didn't really know before what was the average time for production and delivery so maybe it's normal. So very happy about it and now I really consider buying more lightsabers on Artsabers in the future. Thank you !
Florian P.

France
02/14/2021
Incredible
this one makes the hasbro fx look like cheap glow sticks
Ishaan V.

United States
01/07/2021
I just received this extremely fast - 10 days after placing my order! the sabers were shipped in a durable case and are exactly as described.
A***r

US