---
Customer Reviews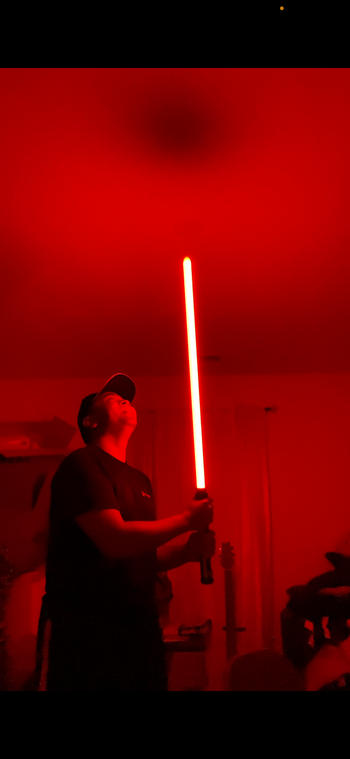 11/01/2021
awesome saber
this is my first saber from artsabers and it is awesome! the blade moves a bit but it still stays secured in the hilt. its bright and illuminates even the darkest of places
Michael R.

United States
10/13/2021
I'm amazed and cautious
I can't believe how fast it got here: ordered it on Sept 25th and got to Perú on October 12th. Impecable quality, smooth swing and sound FX work just as advertised. Blade is a tiny bit loose from the bottom (where the sensors connect), I can feel it when I swing the lightsaber, but not to worry of it coming out. Be careful when tying the screws as it can make the blade lose contact with the pins for some microseconds. Apart from that the sound, smooth swing and brightness of the blade is amazing! Totally worth it.
Diego Re.

Peru
09/01/2021
Qui-Gon's Lightsaber
At first I was skeptical but upon arrival you can immediately tell that the saber is well crafted. The only drawback I had with this specific design was that the blade is not seated as securely as I would like but I guess that's just the design and the tip of the blade was seated just off-centre, so it's not perfect. Nevertheless it is a beautiful looking saber and I am already considering getting another one! (different design).
Chen J.

Australia
08/19/2021
I love it!
I live in Colombia and got here before the estimated delivery time. I was luckier then the previous one (hope your problem gets solved fast and in your favour lad, I feel bad for you it really sucks the situation) Mine works fine, no weird movements or damages whatsoever I love every centimetre of it sounds good, lights perfectly, my only feedback will be about the battery level indicator (that doesn't exist) and the igniter that should be more "clicky" than what it is at this moment. Thank you everyone in the team.
Edwin M.

Colombia
07/29/2021
Just arrived
Just arrived and it's freakin awesome. Only things that I could see making it better; more than two set screws for the blade and better instructions explaining all features and functions. Otherwise, pretty wild man!
Levi W.

Canada
This section doesn't currently include any content. Add content to this section using the sidebar.