---
Customer Reviews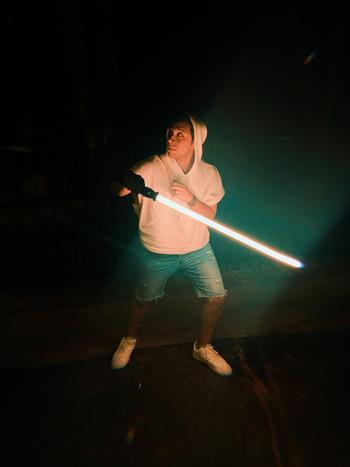 05/07/2021
Amazing
This Saber is my 3rd purchase and all I can say is that I'm extremely happy with it! Rey Skywalker is my favorite character and the saber is really movie like! And dueling and doing tricks with it is amazing! I will definitely be returning to buy more sabers! THANK YOU
Sergio P.

United States
10/18/2021
Best Saber So Far
What can I say. Best Saber I own period. Smooth swing and fonts are excellent. Colours are bright. Activation switch is exactly as it should be. It's beyond my expectations.
Richard B.

United Kingdom
09/08/2021
Rey Skywalker
Excellent, had a little issue with the switch not springing back, but was able to unscrew and adjust screw, now works perfect. Beautiful Lightsaber.
Skip P.

United States
08/26/2021
Very content
The solid case the saber comes with is beautiful on its own and then the saber..,.... Being a fan for a very long time, I always wanted to own a saber. But there are so many companies to choose from. Which one to select to buy my first. Did extensive research and came across Carly's channel (yes, that girl from tiktok with the lightsabers). Her unboxing video on Rey's saber made me make the final decision and I ordered. I knew that delivering from the States to the Netherlands would take a while. For a few weeks any status update made my heart jump. It's getting closer. IT'S GETTING CLOSER. And then, one day, the doorbell rang. No mistake. That box the guy was holding is my saber. I wanted to unpack immediately, but I couldn't. I was so nervous. Finally put my act together and started to unbox. Removed all the plastic foil and then sat in awe. The hilt is beautifully designed and crafted. The weight expresses quality. The feel in my hand is as if it always has been there. The many presets, the sounds, the lights, I don't have words to describe. Surpluses seem not enough to use. I can't tell you how happy you have made me. Thank you Carly, thank you Artsabers. If you want a quality lightsaber for a reasonable price, you should definitely buy this (or any other neopixel) saber here. You have made a friend for life and I will tell anyone, who will hear it, to buy a saber from you
Guido R.

Netherlands
05/18/2021
I recommend this product
Very fast delivery, the sword is very high quality and super processed. Was delivered the sword in a very high quality gun case. I am perfectly satisfied and can this seller and the lightsaber recommend.
E***f

DE
This section doesn't currently include any content. Add content to this section using the sidebar.