---
Embrace the dark side with the Darth Maul Lightsaber!

This exquisite lightsaber comes with a more affordable price than most yet provides all the features you could want. Perfect for beginners or those who are looking to expand their collection with a full fx customer lightsaber at a reasonable price.
If you don't want our company logo on hilts please add note "NO LOGO"


- 11 interchangeable colors (See Video Below)
- 12W LED
- Brightness Efficiency switching
- 6 custom sound fonts
- Proffie 2.2 soundboard with 16GB SD card included, add any sound font you love from saberfont.com
- Mute function
- Flash on clash
- Blaster deflection & lock-up
- Very perfect SMOOTH Swing
- Metal hilt
- Neopixel Blades 92cm(49.37")
- Detachable mid-grade PC blade for dueling
- Rechargeable battery 4000mAh, 3.7V with USB cable (See pictures)
- Allen key + screws to tighten blade included

NEOPIXEL Blades Included !!!
Buy the Star Wars Darth Maul lightsaber here and enjoy the versatility that this one-of-a-kind lightsaber offers. Just like the real Darth Maul lightsaber, this lightsaber is two weapons in one. The Darth Maul double bladed lightsaber offers the perfect defense against attack. It is also the perfect weapon for aggressive dueling.

This lightsaber is perfect for those that want to be unbeatable in a duel. It is a great weapon for beginners. It is also a great weapon for collectors. No lightsaber collection would be complete without this unique lightsaber that was used to eliminate many great Jedi masters.

Buy Darth Maul lightsaber neopixel blades to build the ultimate weapon. With 11 interchangeable colors, 12W LED, high-quality sound effects, flash on clash and perfect smooth swing, you'll be ready to fight epic battles. Get your Darth Maul lightsaber for sale right here at a great price. Buy your lightsaber now.
Customer Reviews
01/11/2021
I recommend this product
just arrived. everything looks really great. the custom logos were done nicely. will load them now and update my review in some days.
A***r

DE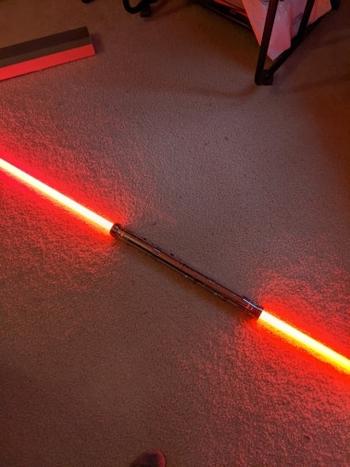 01/02/2021
I recommend this product
Excellent! Exactly as described! Came with both neo blades and feels pretty sturdy.
B***e

US
05/01/2021
The lightsaber doesnt work , its broken,
I want to have the same saber with working functions
02/04/2021
Great product
Great customer service, fast shipping, easy to set up. Great neopixel lightsaber!!!
Elisa V.

Germany