---
Customer Reviews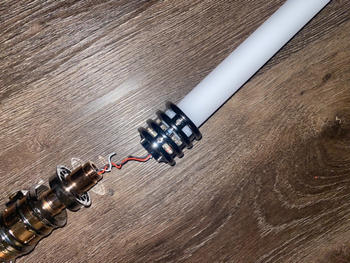 12/22/2021
Manufacturer defect when it arrived
The light saber arrived with cut wires . I'm still waiting to receive a new one . They continue to ask for videos . Not great customer service . The light saber arrived with a manufacturers defect and I contacted you right away when it arrived .
Nayla S.

United States
09/20/2020
I recommend this product
Beautiful saber! looks amazing and sound quality is great too! Will definitely be buying again from them!!!
A***s

US
09/12/2021
AMAZING
Excellent saber. Cannot say enough good things. I did my research before purchasing and I am so glad I went with artsabers. The delivery was FAST and the shipping was SECURE! Saber is fantastic quality and works amazing. Its more than just a saber, it is an ART piece. If you are cruising around like I did, hit the purchase button. You wont regret it. First neopixel in my collection, and will not be the last. Thank you artsabers!
08/22/2021
Excellent lightsaber
Excellent product, arrived with impeccable packaging complete with unlock code. The hilt is spectacular as well as the quality of the Neopixel blade. The package has arrived on the expected date, but the Live Tracking update was a little bit slow. The lightsaber manages to make colors and sounds that make it truly realistic. I recommend this product
Federico A.

Italy
This section doesn't currently include any content. Add content to this section using the sidebar.